Scholarship Recipient Profile: Ramona "Raelynn" Stockton
Since participating in the SYF SeaWorld program in April 2017, Raelynn Stockton has the travel bug. She has expressed that her life has progressed in a positive manner. The experience SYTA Youth Foundation allowed her to have introduced her to the joys of traveling and all the benefits it brings. Before the trip, she had never been the West Coast; seeing the beach and palm trees had a profound effect on her. Raelynn comes from the desert, where things must fight to survive, so seeing a lush and living environment demonstrated how much more there is in the world then what she knows.
Raelynn credits this experience with influencing her to go and see the world—to experience life and put herself out there; to not settle for the easy path, but to take the path allowing her the most personal growth. She has started to look at potential colleges that are out of her comfort zone, such as those on the West Coast. Raelynn was also inspired by the architecture she saw in San Diego, which reaffirmed her dream of becoming an architect. She wants to design buildings throughout America and even the world, so she can continue to experience new places and cultures. Without the STYA Youth Foundation, none of this would have been possible. Raelynn is grateful for the opportunity she received from SYF.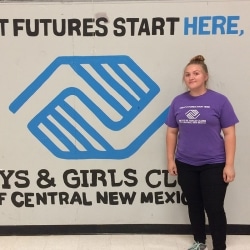 Transformation begins with you.